Wheelchair Ramps
On this page: Manual Ramps, Portable Ramps, Permanent Ramps
Wheelchair ramps for access into wheelchair vans have been around for a very long time. Wheelchair ramps provide good access at a low price point and fit the bill perfectly for many situations.
Today's wheelchair ramps have come a long way from their early ancestors. The results today are durable, lightweight and safe wheelchair ramps that enable you to move occupied and unoccupied mobility devices like scooters and wheelchairs in and out of your vehicle or home with ease.
The angle of the wheelchair ramp is the main priority when determining if you can use a ramp and if so, in the selection of the right product for you. In general, ramp companies recommend 12″ for every 2″ of vertical height. If your van floor is 12" above ground, you would need a 6′ ramp. However, the ADA and others specify a ramp twice that long for a similar rise. Wheelchair ramp length can be compromised by the issue of handling and storing the ramp in the vehicle.
Manual Wheelchair Ramps
Manual wheelchair ramps are an option for youthful care givers, children and/or small wheelchairs.
When the wheelchairs and wheelchair occupants are small, such as with children, that is the time when a manual wheelchair ramp can make the most sense. Also, when the caregivers are young and physically fit, they are better able to push equipment and stabilize the person when they are on the wheelchair ramp. For these reasons, most of the people we provide wheelchair ramps to are young families with a child who uses a manual wheelchair. For many of these young families, budget is a priority, so a lower price point, along with their own youthful strength and energy make a manual wheelchair ramp work for them.
Another situation in which a manual wheelchair ramp becomes a viable option is when you are moving an unoccupied wheelchair or scooter in and out of a vehicle. In this case, you are dealing with less weight and you will not be at risk of injuring the wheelchair user.
Portable Wheelchair Ramps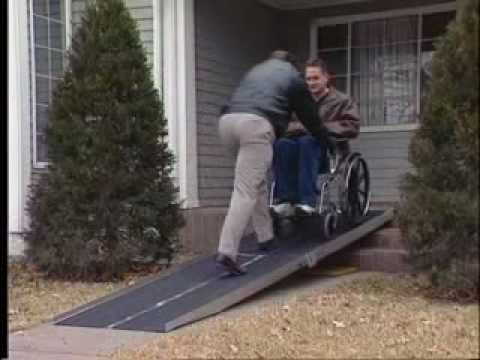 Portable wheelchair ramps have a wide range of uses – for buildings, homes and vehicles. Everyone who has a wheelchair or scooter should have one available. The small size, light weight and folding capabilities of portable ramps makes them store well in the car and enables you to easily carry them reasonable distances. If you have your own portable ramp, you can better control your environment, and allow yourself more independence to go places you might otherwise have not been able to go by allowing you to make non-handicap accessible destinations, easily accessible.
Portable ramps are primarily geared towards home and building use and should only be used in vans when the mobility device and passenger are easy to handle or for an unoccupied mobility device.
Sample Portable Wheelchair Ramp Specifications
| Length | Width | Folded Size | Weight | Capacity |
| --- | --- | --- | --- | --- |
| 5′ | 30″ | 32¼" x 16″ x 9″ | 30 lbs. | 600 lbs. |
| 6′ | 30″ | 38¼" x 16″ x 9″ | 35 lbs. | 600 lbs. |
| 7′ | 30″ | 44¼" x 16″ x 9″ | 39 lbs. | 600 lbs. |
| 8′ | 30″ | 50 3/4″ x 16″ x 9½" | 52 lbs. | 600 lbs. |
| 10′ | 30″ | 62 3/4″ x 16″ x 9½" | 63 lbs. | 500 lbs. |
| 12′ | 30″ | 74 3/4″ x 16″ x ½" | 73 lbs. | 500 lbs. |
Permanent Wheelchair Ramps
Permanently installed ramps are the best option for use in wheelchair minivans and full-size wheelchair vans. Since the installation is permanent, there are no worries about the ramp slipping and it enables the user to have a larger, sturdier ramp.
Permanently installed ramps typically fold to reduce their height and width so that it does not block passengers or the view out the side window. Ramps are also covered with a highly durable non-skid surface that gives great traction in all kinds of weather. A built-in ramp-angle detector also helps to show you if your ramp is at a safe angle for use.However, we suggest you consult with your mobility sales representative about a potential steep incline before purchasing.
Wheelchair ramps are an excellent option for minivans, as are wheelchair lifts for full-size vans.
Side Door Wheelchair Ramps
| Length | Width | Folded Size | Weight | Capacity |
| --- | --- | --- | --- | --- |
| 6′ | 26″ | 38″ x 12½" x 8 3/4″ | 32 lbs. | 600 lbs. |
| 6′ | 28″ | 38″ x 14½" x 8 3/4″ | 33 lbs. | 600 lbs. |
| 7′ | 28″ | 44½" x 14½" x 8 3/4″ | 38 lbs. | 600 lbs. |
Rear Door Wheelchair Ramps
| Unfolded Size | Folded Height | Weight | Capacity |
| --- | --- | --- | --- |
| 7′ x 27″ | 36″ | 72 lbs. | 600 lbs. |
| 8′ x 27″ | 40″ | 77 lbs. | 600 lbs. |